As the holiday season approaches, you may be wondering what to buy the T1D in your life! Look no further! Check out this Top 10 Gift Guide!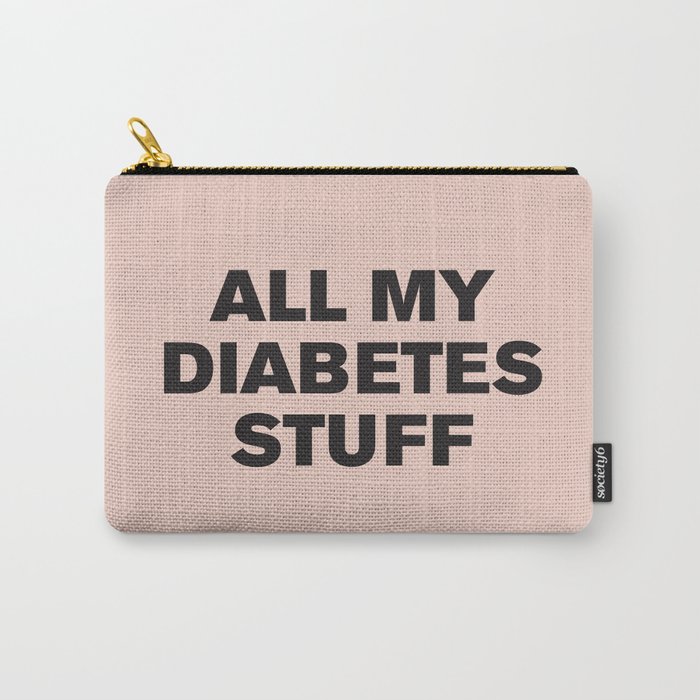 Carry Your Supplies in Fashion
Carrying around all your T1D supplies can be a pain enough, but making it look fashionable can be a whole other issue. Look no further than the Myabetic bags! They vary in size, purpose, color, and more—just take the quiz on their website to see which bag makes the most sense for your devices and needs!
Society 6 also makes some hilarious T1D carrying pouches. They come in three different sizes and have hilarious sayings like, "Test Strip Graveyard", "All My Diabetes Stuff", and "Diabetes Sucks But My Bag Is Cute".
Wearable Patches
Make your wearable gadgets cool again! Pumppeelz has patches to keep your devices in place, as well as stickers for the devices themselves. They have a design for everyone, and if you don't find one you like, you can even create your own! When you sign up with your email, you'll get 10% off your first order!
Apple Watch Bands
Not a fan of jewelry? If your T1D wears an Apple Watch, these T1D identifying accessories will keep them safe, no matter what!
Funny T1D Themed T-shirts
Show off what T1D means to you through these hilarious t-shirts!
Proud Owner of a Useless Pancreas
Live Lokai
Support T1D research through Lokai! This popular bracelet company is known for it's beaded bracelets filled with mud from the Dead Sea and water from Mount Everest, the lowest and highest points on Earth. When you purchase this diabetes Lokai, $1 of every sale will go right back to JDRF!
iHeart Guts
Show you pancreas some love by giving it a squeeze! Okay, not literally, but this plush pancreas will be your new favorite snuggle buddy. This healthy huggable human organ will make your T1D smile in tough times.
Funny T1D Mugs
All we need in this life is coffee and insulin!
Seriously, who doesn't love a mug with a sassy and funny message? Check out all these amazing T1D-themed mugs from Etsy. Shop small business!
Brewed 2 Burn Candles
Located right in Pittsburgh, Brewed 2 Burn gives a portion of all proceeds to the local JDRF Western and Central Pennsylvania Chapter! From their signature collection to seasonal favorites, shop now!
Wine About It
Shop these amazing organizations that give back with each purchase.
At One Hope, buy your favorite wines and get a portion donated back to your charity of choice—JDRF included!
Additionally, launched November 2015 during National Diabetes Awareness Month, Delaney Blue Sauvignon Blanc was created for the purpose of raising funds for life-changing research. Each wine purchase donates a portion of sales to research!
JDRF Store
Lastly, check out our very own JDRF Store! We have a little bit of everything to support our mission- to cure, prevent, and better treat T1D and its complications. From clothing, to hats, to our new facemasks and way more, check out shop.jdrf.org!